I need to just accept the reality that I am not a great card maker and give it up. I just obsess way too much and make a huge mess and end up hating the result. And it takes way too long - I can spend a whole day on one card - and I just don't find that productive. Below is my case in point. This is what I made for my godchild's baptism.
card and bag:
closeup of card:
inside of card:
The details:
This is a 5x7 card and the front layer is cut from Damask Decor that I sized to a 5x7 block. The cross is from the Easter seasonal and embossed with the Divine Swirls Cuttlebug folder. The cross is cut at 4.5 inches. The stamp is from Fiskars and it is supposed to be one line so I have to tweak it to fit it in that space. The box I had for the gift (an engraved cross) was very plain and so that is why I came up with the paper wrapper and stuck a smaller 2.5 inch cross on it to coordinate with the rest.
For the matching gift bag I used the Silhouette feature of the same cut at 5 inches, and I have to be honest - weeding that sucker was a PITA! I had no idea which piece was supposed to stay or go - definitely going to take some practice. I used adhesive pearls in the center of the cross and the gift bag.
So why do I hate cards? well let's see - this was how the card started out at the end of the morning.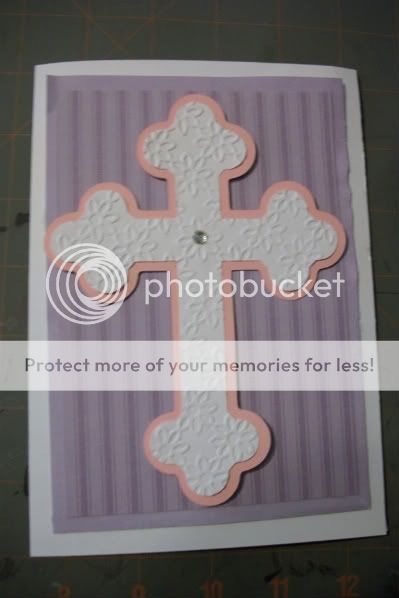 Then I begin my usual obsessing about it and thought "gee I haven't used Damask Decor yet" so I had to pull that out - and then the cut didn't work with the original size cross and I thought the Divine Swirls cuttlebug folder would be a better choice than this one....do you see where this is going?And of course I had already adhered it to the front of the card and finished the inside so I had to peel it off....pretty soon my table looks like this....
.....and then before you know it the day is almost over and I have spent all my crafty time on one stinking card. It is just not effecient which drives me batty. I could have done a whole two page layout in the time I spent on one card. Oh and I know I promised getting back to layouts so I will kick my own butt to finish writing the blog posts for the layouts I already have done.