I know! Another card! I am on a card streak for some reason, but I hope to be back to crafts soon - and then dare I say it - layouts??
This particular card was born out of a thread on the Cricut Circle message board - Myamagoo asked if you could use your Cricut Markers with copics or watercolors so I decided to experiment! As an added bonus, I had already put together this basket for a little boy recovering from surgery so it ended up being a multi-tasking project!
Front of card:
Inside of card: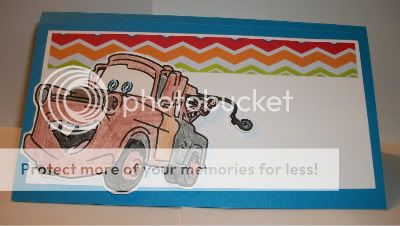 The details:

This is not a traditional size card - I actually don't remember the dimensions - is long and skinny an official card size?? - but I wasn't too concerned since I wasn't mailing it. Lightining McQueen was drawn with the Cricut Markers at 3 inches. Then I colored him in using my Martha Stewart watercolor marker set. I used the blending pen when I was done but if I got it on the Cricut marker line it did bleed a little bit. I was pretty happy with the result. Then I added a sentiment stamp and cut with a paper trimmer in a rectangle around him. I added a layer of scrap paper from DCWV Nana's Kids Stack and added some Oriental Trading Company brads to the corners. You can't see in the pic but the brads have wheel like swirlies on them - I know - here I go again with the real official craft talk.
Mater was drawn with the markers at 3 inches and colored in with Martha Stewart watercolor pencils. I used a Prismacolor blending pencil over the top after but I have to say I was less happy with the result - of both the pencils and the blending. I didn't really think ahead and plan a shadow layer cut so I did have to hand cut around him but it wasn't too much of a chore. Then I added a strip of the same paper to the inside (I had to - blame Joy at Obsessed With Scrapbooking - I think it is a card law) and pop-dotted Mater on the inside.
Since this began life as an experiment it was easy to put together - which is my favorite kind of card! I may have one more card for you - but we'll see what happens!